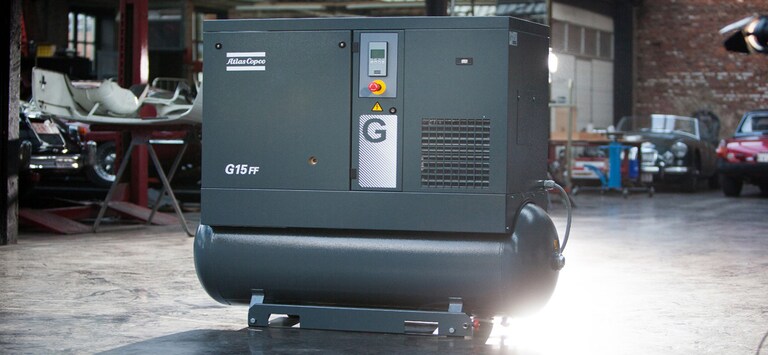 Best Rotary Screw Air Compressors of 2023
Top-Rated & Best-Selling Rotary Screw Compressors
For non-stop compression in the heaviest applications, you need a rotary screw air compressor. To help you pick one, we put together the Best Rotary Screw Air Compressors based on our best-selling, highest-rated models with expert recommendations to ensure you get the perfect type for your needs. 
If you're not sure what kind of rotary screw air compressor you need, check out our Rotary Screw Air Compressor Buyer's Guide to get started and come back to the list for an expert recommendation. 
---
Best Rotary Screw Air Compressors List

You can scroll through the full recommended list of rotary screw air compressors below, or simply click on the one you want to see right away.


1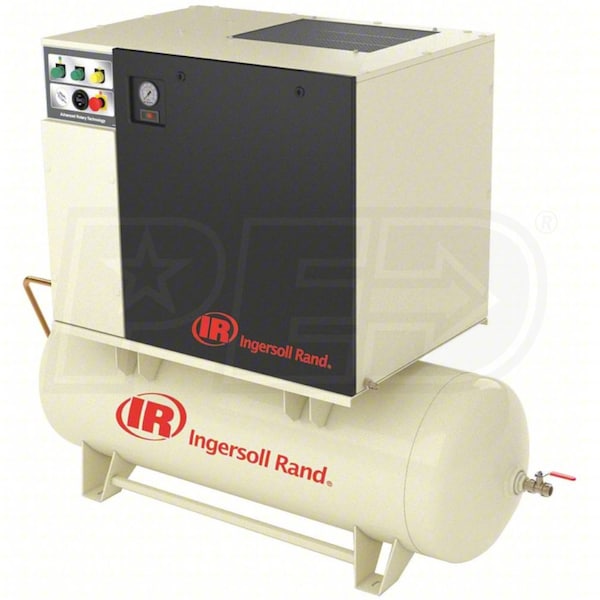 Expert Review
Ingersoll Rand's 10HP 80-Gallon Rotary Screw features 100% continuous duty, ultra-quiet operation. Due to it being energy efficient you are receiving more air for less horsepower, reducing yearly energy costs and making this unit ideal for demanding applications. It's whisper quiet operation allows for installation closer to point-of-use and sound levels as low as 68 dBa. Ingersoll Rand's compact footprint design frees valuable floor space and reduces installation costs. Requires fewer connections which will eliminate leaks and pressure drops, maximizing reliability. With its built in high-efficiency filter, this unit will produce clean air to run tools and equipment long term.
Features
Energy Efficient
More air for less horsepower reducing yearly energy cost
Smart Energy Controls
Eliminates running unloaded by cycling the compressor on/off
Whisper Quiet Operation
Allows for installation closer to point-of-use
Sound levels as low as 68dBa
Compact Footprint Design
Frees up valuable floor space and reduces install costs
Fewer Connections
Eliminates leaks and pressure drops maximizing reliability
---
2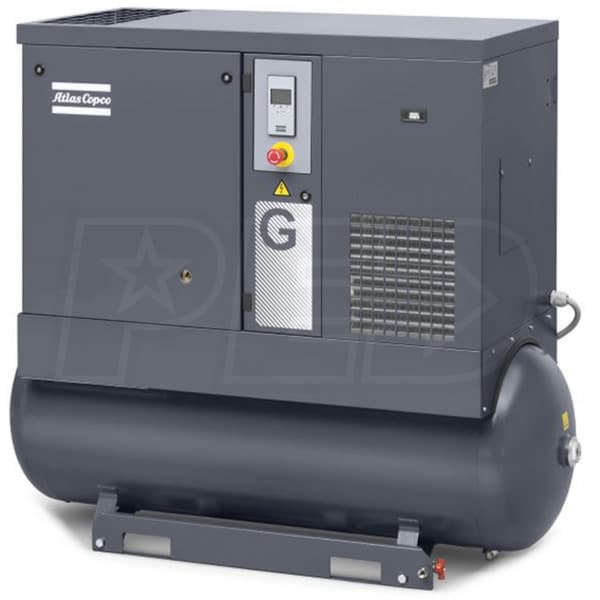 Expert Review
Atlas Copco's G series offers low energy consumption and always offers high efficiency. This oil-injected unit is a powerful and reliable solution for small and medium sized industries. This unit delivers high-quality air in ambient temperatures up to 115 degrees Fahrenheit. It is equipped with energy efficient load/no load control, which automatically switches to meet air demands; saving money. The G7's built-in refrigerated dryer cools the compressed air and removes the water before it enters your piping network. This helps prevent rust in your air pipes and avoids damage to your tools. Not only does it have an integrated dryer to protect your system, but also has an integrated water separator with electronic no-loss water drain. With its enclosure and optimal cooling air flow, sound levels are greatly reduced. The G7 10 HP Rotary Screw Compressor has removable panels for easy access making maintenance a breeze. Look no further, Atlas' G7 will handle your continuous run application.
Features
Tropical Thermostat May Be Required If Unit Is Used In The Following States:
Texas, Arkansas, Louisiana, Mississippi, Alabama, Georgia, Florida & Lower South Carolina
Please Contact Us Directly At 866-437-8002 For Assistance
Latest Generation Oil-Injected G Series
Ideal for small to medium businesses; quiet 67 dBA performance doesn't require separate compressor space
Operates at ambient temperatures up to 115°F (46°C); top discharge lets it fit in small spaces against a wall or corner
Full Featured Package With Built-In Refrigerant Dryer
Cools the compressed air & removes moisture, preventing rust damage to piping & tools
Advanced BASE Electronic Controller
Icon based, easy to understand display for pressure settings, temperature readings, service warnings, & running hours
Increases free air delivery by up to 3% compared to previous models
IP55 (TEFC) Motor
Meets or exceeds IEEE & NEMA premium efficiency standards with greased-for-life bearings
3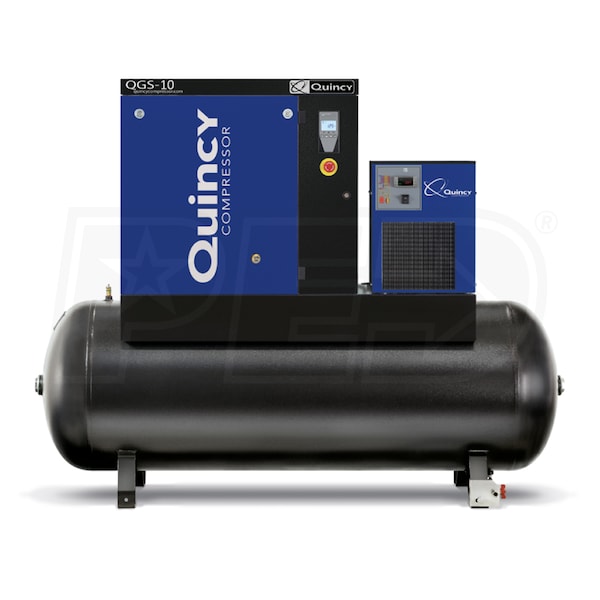 Expert Review
Like the rest of Quincy's QGS line, this world leading rotary screw compressor features oil-injected twin screw pump for quiet, reliable power. Ideal for most applications, this unit has a high-efficiency intake filter and integrated refrigerated air dryer providing clean, dry air through your system. With its small footprint, it allows for installation flexibility. The quiet enclosure reduces the elevated vibrations and sound levels normally associated with a piston compressor. This unit features 39.6 CFM at 125 PSI. Quincy rotary compressors use a premium synthetic lubrication rated for 8,000 hours. This unit also features a low oil shutdown for tool protection. The TEFC electric motor can run on 208/230-460 voltage, operates at a minimum of 36°F and has a protection level of IP 55 wash down. The V-Belt drive provides a longer life making it a more reliable operation and involves less maintenance. Full electronic controls allow flexibility and easy operation. Auto-dual controls ensure that your QGS delivers efficient air only when you demand it.
Features
Superior Compressed Air Turn-Key Performance
Oil injected twin screw pump provides reliable, quiet power
Integrated Refrigerated Air Dryer
Condenses the air to remove airborne moisture, dirt, and oil
Continuous 100% Duty Cycle
Runs your application efficiently 24/7
Standard Quiet Enclosure
Runs without the vibration & noise of piston compressors
Ideal for most applications; 38.8 CFM at 125 PSI
Premium Synthetic Lubrication
Rated for 8,000 hours; low oil carryover protects tools
---

 View: All Rotary Screw Air Compressors
Was this article helpful?