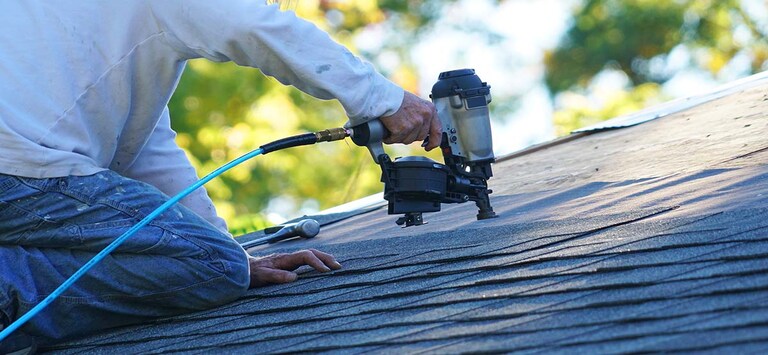 Best Portable Air Compressors of 2021
Best-Selling & Top-Rated Portable Compressors
For compressed air where you need it most, a portable air compressor is a game-changer.That's why we put together the Best Portable Air Compressors based on our best-selling, highest-rated models with expert recommendations to ensure you get the perfect type for your needs. 
If you're not sure what kind of portable air compressor you need, check out our Portable Air Compressor Buyer's Guide to get started and come back to the list for an expert recommendation. 
---
Best Portable Air Compressors List

You can scroll down through the full list of the best portable air compressors, or simply click on the one you want to see right away.


Best Air Compressor for Home Garage
1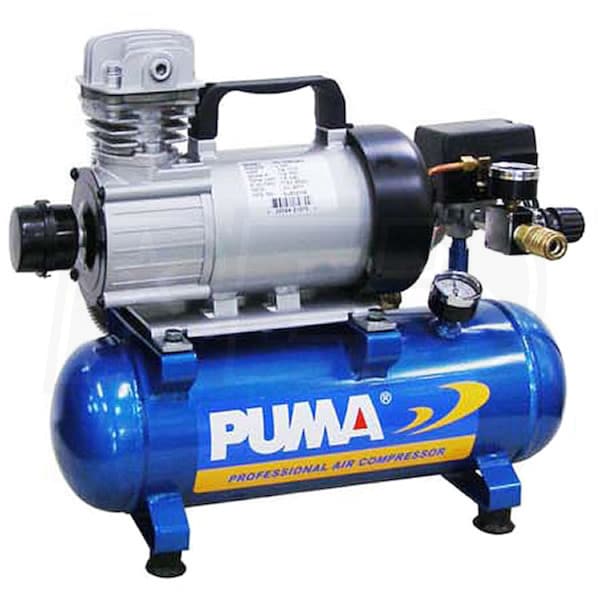 Expert Review
Puma's 12V continuous duty air compressor is ideal for offroad, RV, construction, and more. This DC air compressor has easy to read pressure gauges and a quick connect fitting for fast tool changes. This oil-free compressor runs cooler, prolonging the pump life. Its 100% duty cycle is perfect for high-demand applications.
Features
Oil-Less, Direct-Drive Design
Allows unit to be mounted in any direction
Ideal for offroad, RV, agriculture, construction & motorsport use
Runs On 12-Volt DC Power
Use anywhere you can mount a battery & need on-board air
Requires 50aH battery (battery not included)
Patented Pump Design
Runs with lower noise (78dB) & improved cooling
Deep Cooling Fin Design On Cylinder Head & Cylinders
High efficiency cooling helps the pump last longer
Oversized Motor Cooling Fan
Helps prevents the motor from overheating
---
Best Air Compressor for Tires
2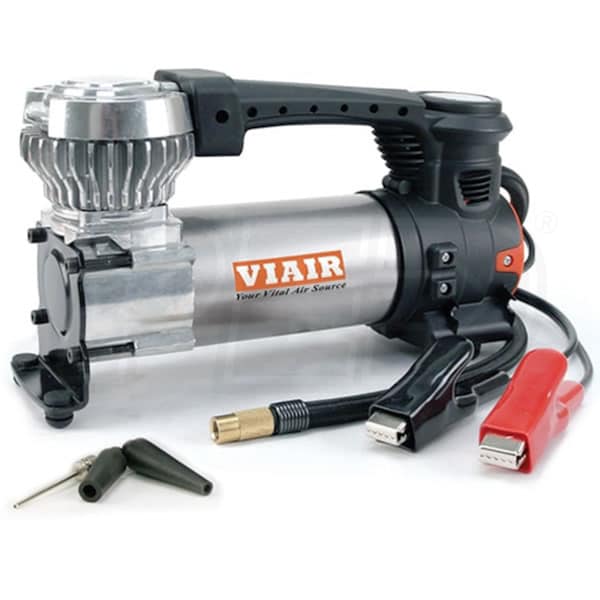 Features
Dependable 12-Volt Maintenance-Free Permanent Magnetic Motor
Simply attach the heavy duty battery clamps to your vehicle's battery and start your engine
Large Top-Mounted 120-PSI Pressure Gauge
Built-in LED worklight & power indicator help you see and be seen in the dark
3 Piece Inflation Tips Kit Fits The Solid Brass Twist-On Tire Chuck
Inflates tires up to 33"; also inflates sports balls & pool toys
Connect the screw-on tire chuck to a tire valve stem before turning the unit on
Maximum pressure is 120 PSI; delivers 1.47 CFM at zero PSI and .64 CFM at 90 PSI
Use only in well ventilated areas; engine should be running to provide best performance
10-Foot Power Cord & 16-Foot Air Hose
Let you work in a wide area around your car
1 Year Limited Factory Warranty
Protects your investment against defects in materials and workmanship
---
Best Hot Dog Air Compressor
3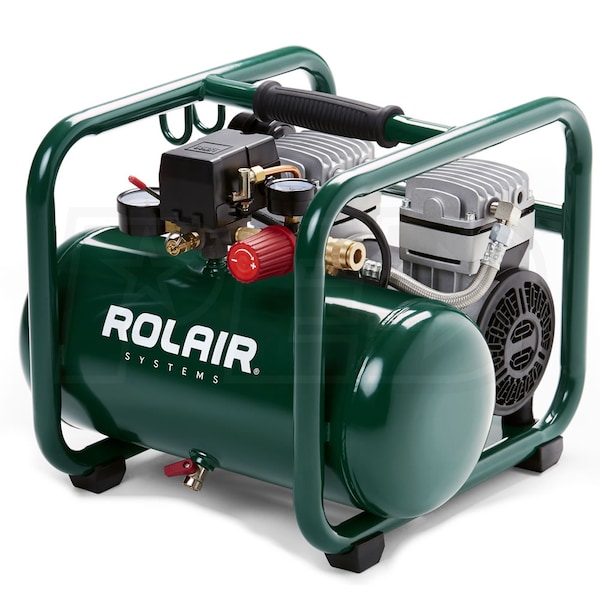 Expert Review
The JC10PLUS is a workhorse from Rolair that has a sturdy roll-cage design that will protect it on the job and during transport. The two-cylinder pump is powered by a 1700 RPM low-amp draw motor for maximum efficiency. It's great for powering inside finish tools, and quiet enough so you won't mind working next to it. We like the large, easy-to-read dials and large regulator, so getting set up properly is quick and easy. If you read through the reviews for this compressor you'll see it's had a large customer fan club for years—that makes it a hit on our site.
Features
1 HP Hand-Carried Air Compressor
Great for powering inside finish air tools
Low 1725 RPM, 7.5 Amp, 115V Motor
Produces only 60 dB, about the same as a conversation
Quiet enough to work next to all day without stress
Oil-Less 2 Cast Aluminum Cylinder Pump
Sealed pump means less maintenance
Start / Stop Pressure Switch
Set for 95-125 PSI; delivers 3.8 CFM at 40 PSI, 2.4 CFM at 90 PSI
Roll Cage Design
Protects pump, motor & controls; weighs only 50 pounds
Well balanced; easy to carry and transport
Air Line Regulator & Pressure Gauge
Top-mounted controls are large & easy to read
---
Best Pancake Air Compressor
4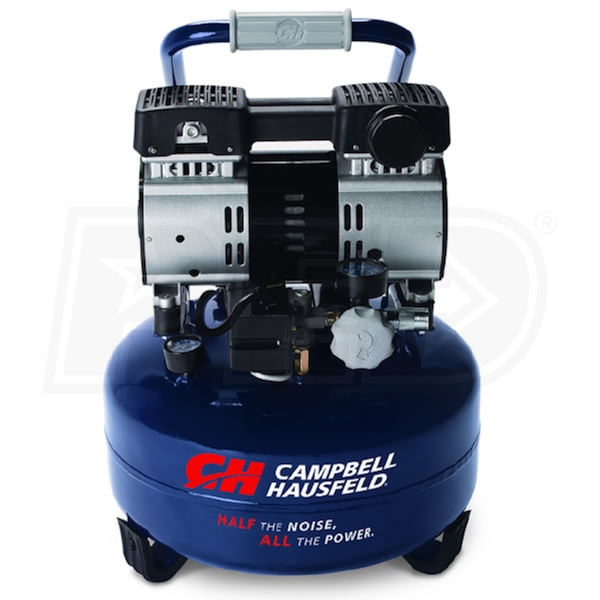 Expert Review
The Campbell Hausfeld DC060500 is perfect for tires and inflatables- but the 6-gallon air tank lets you use lightweight air tools as well. With a cool-running tank, easy to read pressure gauges this compressor is great for all types of jobs. This portable compressor is perfect for DIY projects like installing chair rail and molding; it helps get the job done fast and efficiently. The Campbell Hausfeld Quiet pancake compressor is 50% quieter than conventional 1-HP compressors. Did I mention that it is oil-less? This means less maintenance for the end user. The pancake style is easy to transport to your latest project, and won't eat up precious storage space.
Features
Half The Noise, All The Power
68 dBA is up to 50% quieter than conventional 1-HP compressors; about as loud as a normal conversation
Delivers 2.4 CFM at 90 PSI, 3.5 CFM at 40 PSI; ideal for tire inflation, hobby air brushing, finish nailing & stapling
Oil-Free Pump & Induction Motor
Dual piston-pump system provides superior motor performance with no pump maintenance
Key components last up to 4 times longer
6 Gallon Air Tank
Rated up to 125 PSI; comfort-grip handle for easy transport & storage
Top-View Controls
Dual gauges let you monitor tank and tool pressure at a glance
1/4-inch air hose quick connect for speedy set up
Produces up to 25% more air compared to other 1-HP units
1 Year Factory Warranty For Consumer Use
Protects your investment; warranty is 90 days for commercial use
---
Best Twin Stack Air Compressor
5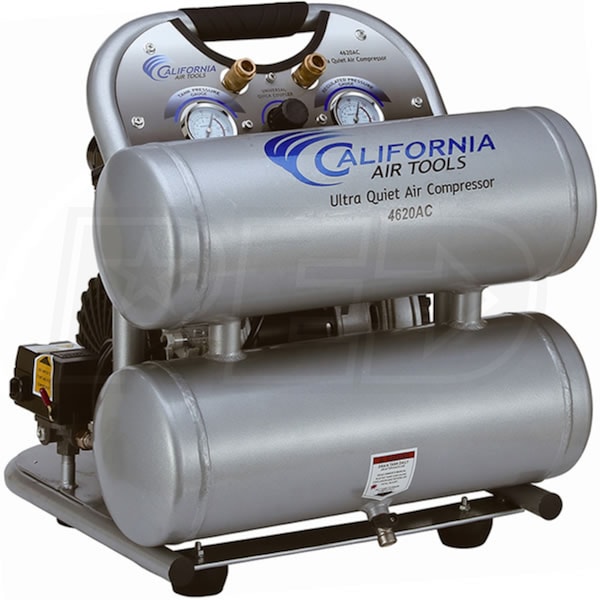 Expert Review
California Air Tools is at it again! This lightweight ultra quiet compressor makes maneuverability a breeze on the job site. Compared to most small portable compressors, this California Air Tools compressor has increased duty cycles and run times which means no more waiting around for your tank to refill! This unit is equipped with twin 2.3-gallon tanks, dual gauges, dual airports, and a regulator. It is also equipped with an oil-free dual piston pump system making this unit low maintenance and has a 3000+ hour life cycle. This compressor is perfect for any job site and will be a reliable hard-working option.
Features
Ultra Quiet & Dependable Portable Air Compressor
70 dBA is ideal for indoor use where noise is an issue
Designed to be one of the quietest air compressors in the industry
Oil-Free Dual Piston Pump System
3000+ hour life cycle before wear; comparable units are 500 hours or less
Powerful 2-HP SP Series 110V 1-Phase Motor
Low 1680 RPM creates less noise and wear
Air filters included for extra protection against dust and dirt
Works in a variety of temperatures and uneven terrains
Thermal Overload Protector & Easy Start Valve
Protects motor from overheating; 14 amp draw
Valve releases a small amount of air for no-load starts that use fewer amps
Two 2.3 Gallon Aluminum Rust-Free Air Tanks (4.6 Gallon Total)
Lightweight and easy to transport and store at only 45.5 pounds
Manual tank drain for routine draining prevents air contamination
---
Best Wheelbarrow Air Compressor
6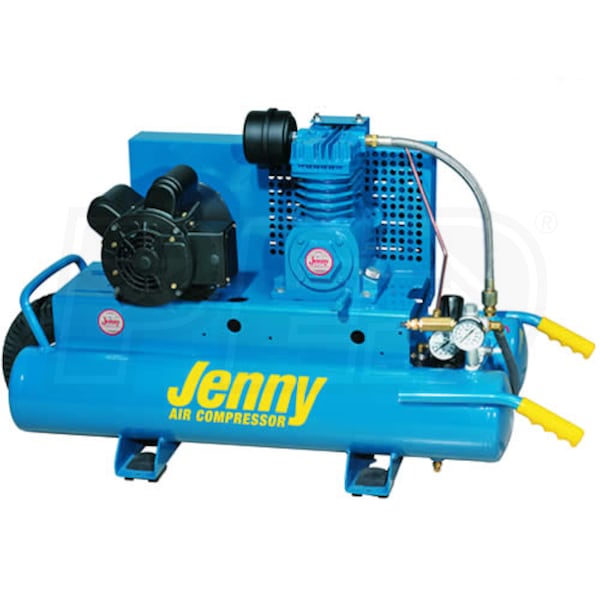 Expert Review
The Jenny K15A-8P Wheelbarrow air compressors can be a contractor's best friend. It provides plenty of power in a package that can still fit through a doorway. Contractors and pros love this unit because it is dependable, powerful, and Made in Somerset, PA USA. We like the powerful 1.5-HP electrical motor for its versatility in voltage (120/240V) and the thermal overload protection. It's perfect for inside finish work and is set up to run 2 air tools at the same time. For 90 years, Jenny has been supplying top of the line air compressors and continues to improve year after year.
Features
Industrial/Commercial Grade UL Listed 1.5-HP Electric Motor
Thermal overload motor protection
High quality pilot valve
Constant run control set at 105-125 PSI
Heavy-Duty Single Stage Cast Iron Pump
Made in Somerset, PA USA
Belt drive design w/ totally enclosed heavy-duty belt guard
Large flywheel for extra cooling and easier start-up
Directional air shroud for reduced pump temperatures
8-Gallon Wheelbarrow Design w/ Convenient Lifting Handles
Low profile, powder coated twin tank receivers
Pneumatic tire makes it easy to move around the job site
Canister Inlet Filter
With replaceable filter elements for extended pump life
Added Features
Anti-vibration feet & Protectively mounted fittings
Special unloading valves to assist in motor starting
Tank gauge, regulator and outlet pressure gauge
Stainless steel braided discharge hose
---
 View: All Portable Air Compressors
Was this article helpful?