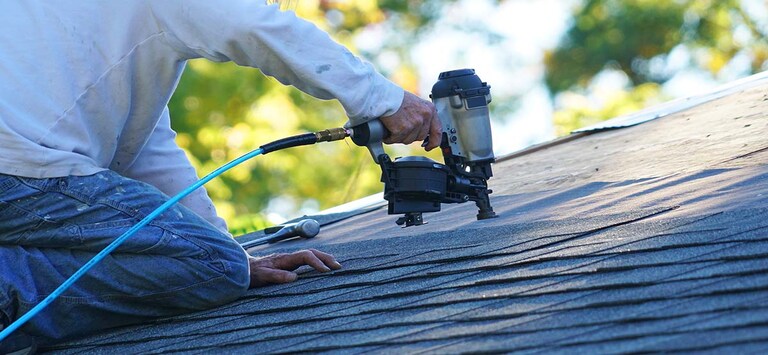 Best Portable Air Compressors of 2023
Best-Selling & Top-Rated Portable Compressors
For compressed air where you need it most, a portable air compressor is a game-changer.That's why we put together the Best Portable Air Compressors based on our best-selling, highest-rated models with expert recommendations to ensure you get the perfect type for your needs. 
If you're not sure what kind of portable air compressor you need, check out our Portable Air Compressor Buyer's Guide to get started and come back to the list for an expert recommendation. 
---
Best Portable Air Compressors List

You can scroll down through the full list of the best portable air compressors, or simply click on the one you want to see right away.


Best Air Compressor for Home Garage
1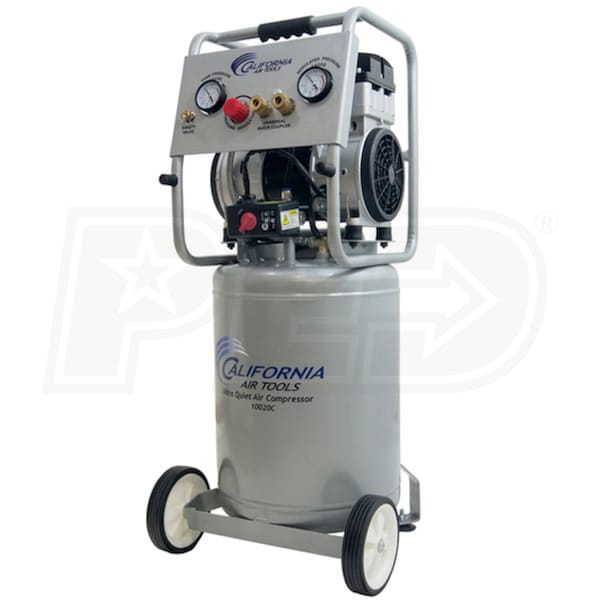 Features
Powerful 2-HP SP-Series UL-Certified 110V Motor
Low 1680 RPM creates less noise & wear
70 dBA is ideal for indoor use where noise is an issue
Oil-Free Dual Piston Pump System
Works in a variety of temperatures and uneven terrains
3000+ hour life cycle before wear; comparable units are 500 hours or less
10 Gallon Steel Air Tank With Wheel Kit
Easy to move around the jobsite, shop or garage
6.4 CFM @ 40 PSI; 5.3 CFM @ 90 PSI; 125 PSI maximum
Easy-Start Valve & Two Air Filters
Cleaner air for better tool operation
Designed For Increased Duty Cycles & Run Times
Time to fill tank from empty to full - 120 Seconds
Recovery time from 95 PSI to 125 PSI - 25 Seconds
---
Best Air Compressor for Tires
2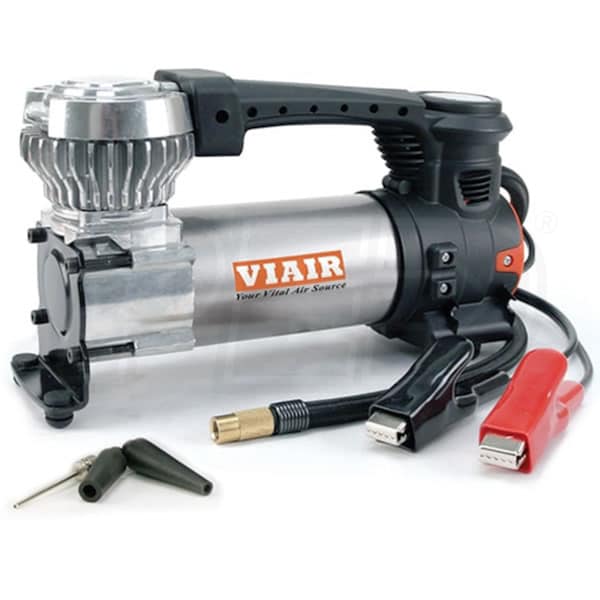 Features
Dependable 12-Volt Maintenance-Free Permanent Magnetic Motor
Simply attach the heavy duty battery clamps to your vehicle's battery and start your engine
Large Top-Mounted 120-PSI Pressure Gauge
Built-in LED worklight & power indicator help you see and be seen in the dark
3 Piece Inflation Tips Kit Fits The Solid Brass Twist-On Tire Chuck
Inflates tires up to 33"; also inflates sports balls & pool toys
Connect the screw-on tire chuck to a tire valve stem before turning the unit on
Maximum pressure is 120 PSI; delivers 1.47 CFM at zero PSI and .64 CFM at 90 PSI
Use only in well ventilated areas; engine should be running to provide best performance
10-Foot Power Cord & 16-Foot Air Hose
Let you work in a wide area around your car
1 Year Limited Factory Warranty
Protects your investment against defects in materials and workmanship
---
Best Hot Dog Air Compressor
3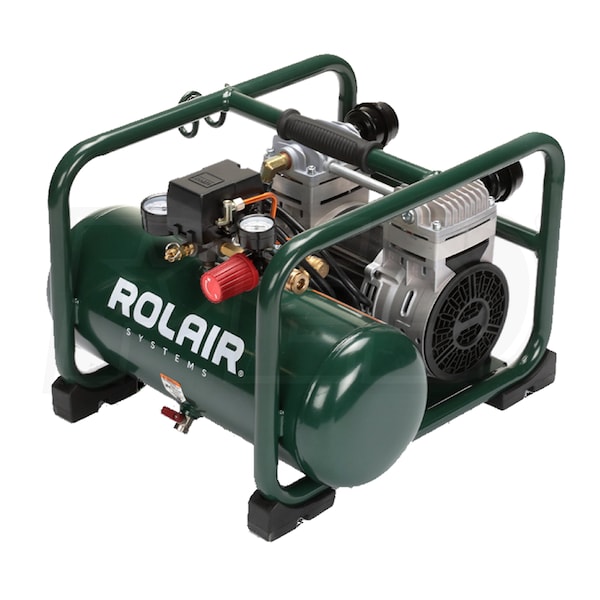 Expert Review
The JC20 is built to be lightweight, but it's still heavy duty with a durable roll cage that protects its pump and motor. At only 68 pounds, it's easy to handle. This unit is perfect for the person looking to bring it along on-the-go. Also, its compact size makes storage simple. JC20 has an oil-free pump and dual intake filters to eliminate contamination to your equipment and your end product. Also, with a 2.0 HP heavy duty motor drawing only 12-amps, it will work on most household outlets. Not only does the low-amp draw make it easy to plug in wherever you are, but it also makes it easier to start in cold weather conditions. The JC20 offers a lot of features that will meet all your consumer air needs.
Features
High Performance Ultra Quiet Air Compressor
Produces only 70dBA; ideal for indoor use where noise is an issue
Durable roll cage provides extra protection for motor and pump
Great for inside trim, finish carpentry & framing applications
Oil-Free Single Stage 2 Cylinder Pump
Includes dual intake filters for extra clean air
Start/Stop pressure switch measures pressure inside tank
Requires no pump maintenance and delivers no oil contamination on your end product, powered equipment, or the environment
Heavy-Duty 2.0-HP 1700RPM Motor
Oil-free eliminates the need for costly oil changes
Draws only 12-amps; works on most household outlets
Low amp draw makes it easier to start in cold weather conditions
Automatic Thermal Protection
Protects the motor from overheating and excessive use
Safety relief valve controls and limits the pressure build-up in the system
Powerful 120-150 PSI Operating Pressure
Puts out 5.5 CFM @ 40 PSI; 4.5 CFM @ 90 PSI
Provides faster recovery time and more CFM production
---
Best Pancake Air Compressor
4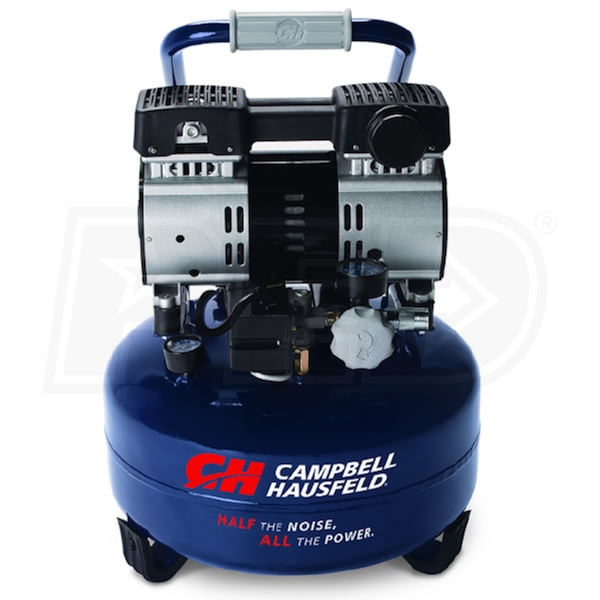 Expert Review
The Campbell Hausfeld DC060500 is perfect for tires and inflatables- but the 6-gallon air tank lets you use lightweight air tools as well. With a cool-running tank, easy to read pressure gauges this compressor is great for all types of jobs. This portable compressor is perfect for DIY projects like installing chair rail and molding; it helps get the job done fast and efficiently. The Campbell Hausfeld Quiet pancake compressor is 50% quieter than conventional 1-HP compressors. Did I mention that it is oil-less? This means less maintenance for the end user. The pancake style is easy to transport to your latest project, and won't eat up precious storage space.
Features
Half The Noise, All The Power
68 dBA is up to 50% quieter than conventional 1-HP compressors; about as loud as a normal conversation
Delivers 2.4 CFM at 90 PSI, 3.5 CFM at 40 PSI; ideal for tire inflation, hobby air brushing, finish nailing & stapling
Oil-Free Pump & Induction Motor
Dual piston-pump system provides superior motor performance with no pump maintenance
Key components last up to 4 times longer
6 Gallon Air Tank
Rated up to 125 PSI; comfort-grip handle for easy transport & storage
Top-View Controls
Dual gauges let you monitor tank and tool pressure at a glance
1/4-inch air hose quick connect for speedy set up
Produces up to 25% more air compared to other 1-HP units
1 Year Factory Warranty For Consumer Use
Protects your investment; warranty is 90 days for commercial use
---
Best Twin Stack Air Compressor
5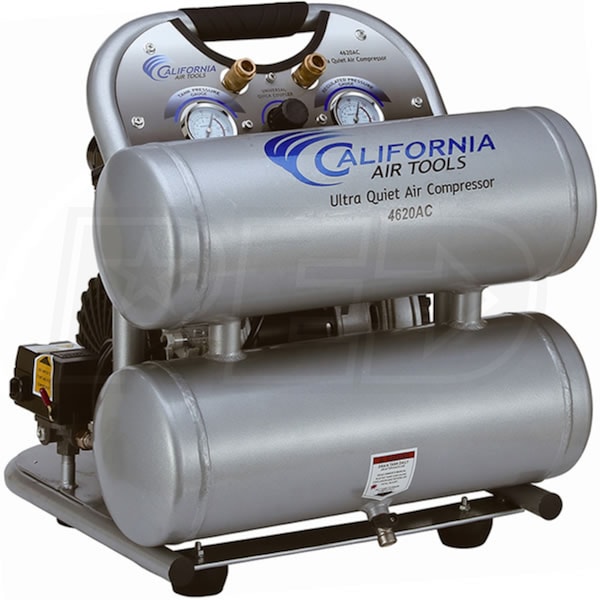 Expert Review
California Air Tools is at it again! This lightweight ultra quiet compressor makes maneuverability a breeze on the job site. Compared to most small portable compressors, this California Air Tools compressor has increased duty cycles and run times which means no more waiting around for your tank to refill! This unit is equipped with twin 2.3-gallon tanks, dual gauges, dual airports, and a regulator. It is also equipped with an oil-free dual piston pump system making this unit low maintenance and has a 3000+ hour life cycle. This compressor is perfect for any job site and will be a reliable hard-working option.
Features
Ultra Quiet & Dependable Portable Air Compressor
70 dBA is ideal for indoor use where noise is an issue
Designed to be one of the quietest air compressors in the industry
Oil-Free Dual Piston Pump System
3000+ hour life cycle before wear; comparable units are 500 hours or less
Powerful 2-HP SP Series 110V 1-Phase Motor
Low 1680 RPM creates less noise and wear
Air filters included for extra protection against dust and dirt
Works in a variety of temperatures and uneven terrains
Thermal Overload Protector & Easy Start Valve
Protects motor from overheating; 14 amp draw
Valve releases a small amount of air for no-load starts that use fewer amps
Two 2.3 Gallon Aluminum Rust-Free Air Tanks (4.6 Gallon Total)
Lightweight and easy to transport and store at only 45.5 pounds
Manual tank drain for routine draining prevents air contamination
---
Best Wheelbarrow Air Compressor
6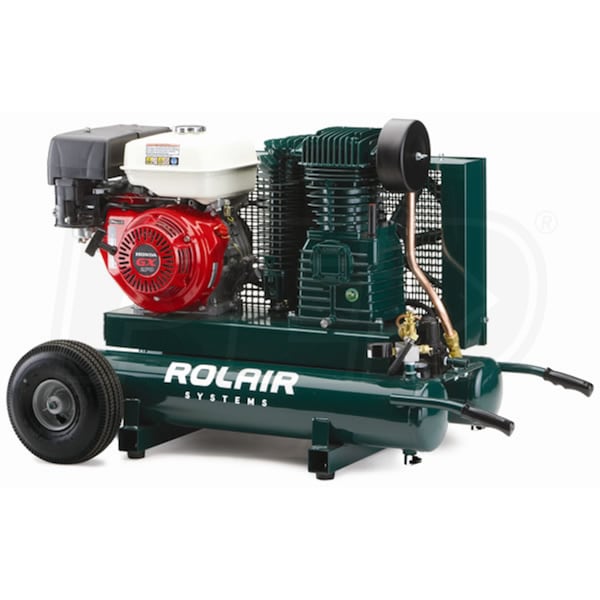 Features
9 HP Honda Commercial Grade GX270 Engine
Quiet , reliable, & easy to start
Low oil shutdown protects the engine
Automatic Idle Control
Provides fuel economy & long service life
Heavy Duty 2-Stage Pump
Cast-iron twin cylinders get the job done
Hardened steel reed valve plates are rugged & dependable
Multi-Finned 15 Inch Flywheel & Air-Cooled Aftercooler
Pump runs cooler & lasts longer
Oil Sight Gauge
Easily maintain the proper oil level
---
 View: All Portable Air Compressors
Was this article helpful?